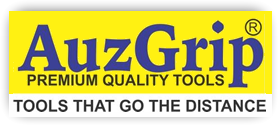 10pc FLARE NUT CROWFOOT WRENCH SET
This professional quality set contains a range of the most common flare nut crowfoot wrenches in 3/8" drive.
The unique crowfoot design allows access to nuts and pipes in tight spots.
AUZGRIP tools are designed with industrial use in mind and are an ideal choice for the tradesman that need high quality tools.
Made from Chrome vanadium steel and finished polished Chrome for durability.
3/8" Drive:

Manufactured from high quality Chrome vanadium steel for long life.

Lifetime warranty.

Sizes: 10, 11, 12, 13, 14, 15, 16, 17, 18 & 19mm with a socket rail.
why buy from TOOL KING?

TOOL KING is an Australian family owned business with over 30 years experience in the tool industry.

Unlike many online retailers TOOL KING does have physical bricks and mortar stores so we are always contactable.

All our products are tried and tested by our head tool buyers to ensure you get a product that offers true value for money.



Copyright Robson's TOOL KING all rights reserved
Unauthorised copying in part or full strictly prohibited without written consent